Wet Mops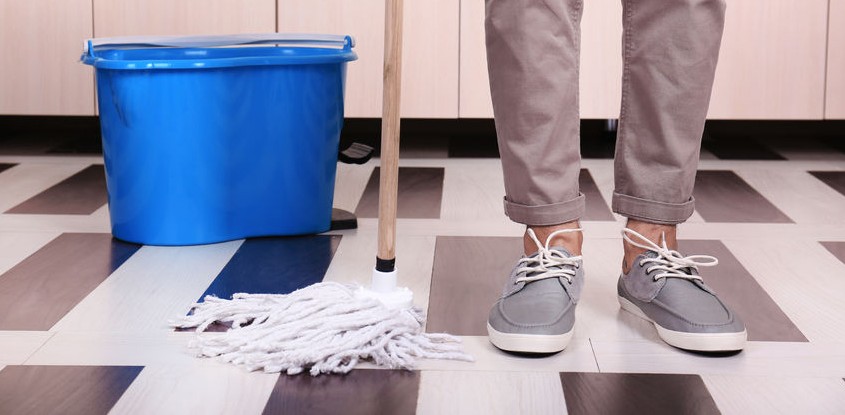 When it comes to janitorial products, NDC Mats has you covered. We provide businesses with a variety of facility services such as mops, air fresheners, floor mats, and many more products. One of our highly coveted products is our wet mop. Our commercial wet mops are durable enough to cover more surfaces than the average mop. The fiber in our wet mops will soak up all moisture faster than the typical wet mop and will allow your business's janitor to complete tasks quickly.
If there's a mess in your office, business, factory, or workplace, wet mops are its worst enemy. Very little can stand against a quality wet mop soaked in cleaning agents. They are a vital partner for any floor and a necessary part of your business's safety.
Quality Wet Mops Make the Difference
Wet mops are available at reasonable prices in just about every department or hardware store. They'll come in a variety of colors, lengths, and thicknesses. They'll look good, prime, fluffy and ready to consume dirt, grease, and grime.
They will for the first few days, and maybe even the fifth if you really splurged. By the second week, though, it's not the same mop head. It's ragged, thin, and looks like it smells. More than anything, though, it won't clean well. Dirt and grime get pushed around instead of absorbed.
The lemony fresh scent of a fresh mopping now smells like your high school gym locker. Where did it all go wrong?
It went wrong when that cheap mop head was put on display. Though advertised as durable and long-lasting, it was never meant for hourly use. Your business needs exceeded its construction. All that means is you needed one built for your business. NDC has what you need.
Choose Wet Mops from NDC
NDC has the knowledge, expertise, and industry experience to supply the materials you need for any part of your business. We know what it takes to run a clean business, and we're more than ready to supply the mops, mats, or restroom products to make it happen.
Contact NDC Mats today for a price estimate on the service you are requesting information for. We have quality business service specialists who will be able to price out various options that best match your needs as well as your business's and build a delivery schedule that best matches your own hours. Then, our experienced drivers will get to work on delivering your products in a timely and efficient manner.
Call us at 800-238-2387 and ask about a free quote for service!