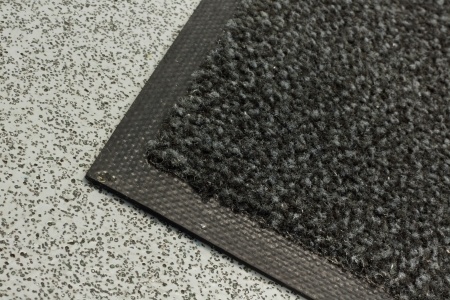 National Dust Control is proud of our ability to provide high quality floor mats for a variety of businesses in the New Jersey and New York Metro areas. Our floor mats exhibit an attractive appearance for your business, portraying professionalism and value in caring for your business and its customers. We also make sure that all of the floor mats that we service your business with are capable of protecting floors and controlling dust volumes.
Dust control mats perform in high speeds and quality in order to capture the majority of dirt, keeping your workplace clean and professional. By preventing dirt and grime from trailing across the floor, this will provide a level of safety for any business and avoid slip and fall accidents, as well as keeping a clean appearance at all times.
National Dust Control offers a variety of floor mat services for all businesses. Our floor mats range from high quality professional logo mats based on your business, to durable scraper or anti-fatigue floor mats. We provide mat services for restaurants or industrial facilities requiring slip-resistant heavy duty floor mats to hotels and commercial facilities looking for a simple floor mat to portray their company's logo.
Give National Dust Control a call today for a quote on our high quality floor mats today. We proudly provide high quality dust control mats for your business, as well as other facility services. We also offer dust and wet mops, bar towels and aprons, and restroom products. Contact National Dust Control today for a high quality mat rental service in the New Jersey and New York City metro areas today. Give us a call at 800-238-2387 or send us an email at bryan@ndcmats.com! We are patiently waiting to assist you with all of your floor mat needs.