Imagine that your job requires you to stand on your feet for hours on end every single day, five days a week.
This kind of working condition is tough, not just on the legs but also on the motivation of employees. Unfortunately, this is everyday reality for many workers – especially for those working in the hospitality, food service, healthcare, and manufacturing industries.
Additionally, these physically straining jobs also have a negative effect on employee productivity. Poor flooring coupled with long hours of being on one's feet are the perfect formula for lower extremity injuries and long-term back, leg, and hip problems.
But it doesn't have to be this way. There's one simple way to combat fatigue at your business and improve the conditions of the workplace: anti-fatigue mats.
Fighting Fatigue with Floor Mats
Aside from proper flooring and prescribed ergonomic footwear, one of the most important adjustments you can make for your workplace is investing in durable, high-quality anti-fatigue mats.
But what exactly do they do?
Anti-fatigue mats are specialized mats that help reduce the fatigue and pressure on the legs that comes with standing for hours on end. Their specialized ergonomic pattern, along with a cushioning underlay, promotes micro movements in the legs.
These micro movements shift weight throughout the lower extremities and balance out the amount of 'work' each leg does, reducing fatigue and promoting better blood circulation in the legs, feet, hips, and lower back.
Anti-fatigue mats can be made from a variety of materials and come in various types to suit different workplaces and/or target different purposes. Anti-fatigue mats are often made of PVC, rubber, nitrile rubber, and PVC closed cell foam, among others.
The Benefits of Anti-Fatigue Mats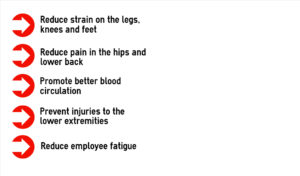 What Kind of Anti-Fatigue Mats Do I Need?
There are many different types of anti-fatigue mats available in the market today, all designed for different industries. Talk to one of our consultants today to learn more about your options and find out what works best for your business! Call us at 800-238-2387 or fill out the contact form on our website.