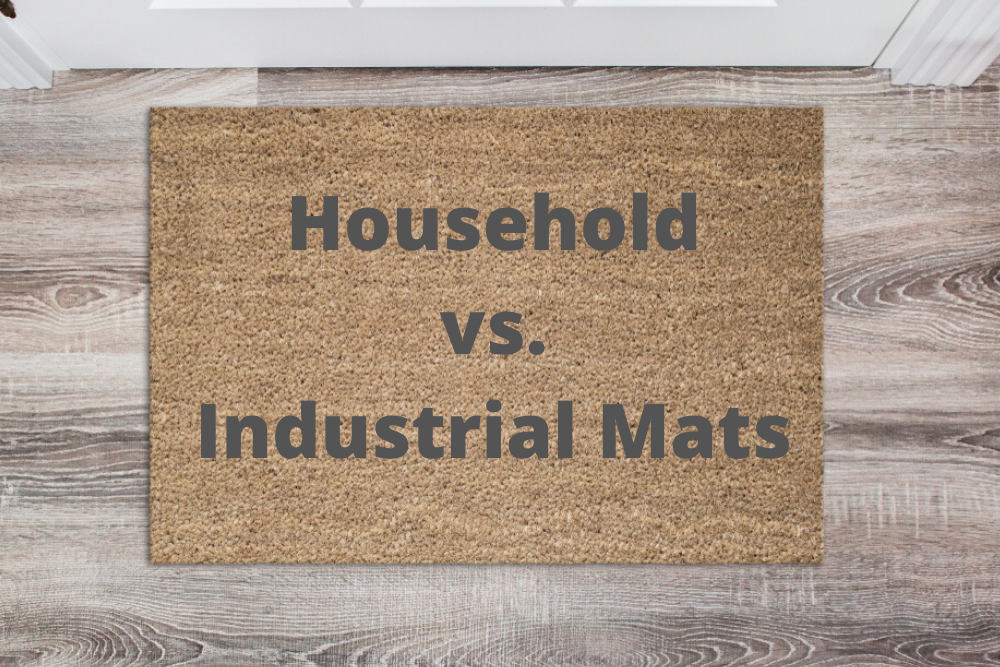 Finding the right mat for your business is important to ensure its safe running. To get that assurance, there can't be any doubt that your mats can handle the traffic of your business. 
There are many differences between household and industrial mats. Consider these differences before making a choice as to which to use in your business. 
Specific Purposes
If you go to the hardware store to find mats, you'll see two or three kinds and four different choices of each. They'll all be thin. One will be made of flimsy rubber, the other, some wicker material, and the last will be shaped like a heart. None of them will be up to the tasks your business would require of them, but here are some that would: 
Wet Area Mats
Wet area mats are ideal for chronically wet or accident prone areas of your business. With liquid channeling abilities and a tough rubber lining, those wet areas won't be dangerous. 
Anti-Fatigue
Standing for hours on end will tire anybody out. Add on the demands of work, be it cooking or talking with customers, and you have an exhausting day-to-day. An anti-fatigue mat will soften the contact point that your workers have with the ground, easing the pressure on their joints and keeping their energy up.
Runner Mats
Runner mats are high-traction lengths of rubber for hallways or corridors that are prone to spills or other hazardous happenings. They provide a secure footing in any mess and are great for wide-area coverage. 
Quality 
Purchasing mats from the store or online doesn't incentivize quality purchases. Shoppers are always looking for the best deal for the lowest price. Sometimes they hit the jackpot. Most of the time they end up with a cheaper, better advertised product. 
Generally this isn't an issue for household mats for household purposes. They'll get stepped on maybe a dozen times a day by barefeet or soft slippers. Their quality isn't really tested except by time. 
For your business, where that mat may experience hundreds of footfalls a day from hard-soled shoes, you can expect a hasened lifespan. Within two weeks it'll be fraying at the edges, curling at the corners, and thinning. When that starts happening, a mat becomes more hazardous than helpful. Soon, you'll be back at the store. 
Variety
Your business needs are unique, as are the messes that can happen in it and the weather of the seasons. You're not going to find one mat that can handle it all, and you won't find it at the department store. 
If you're looking to contend with the snow and salt dragged into your lobby, you'll need a scraper mat. If you want to protect your kitchen from it's inevitable messes, you'll want a kitchen floor mat. If you want an absorbent and safe floor mat for your bathroom, you'll need a restroom mat. 
All mats are not created equal to the tasks entrusted to them. You can do the research, pay the substantial purchase price (if getting quality mats), spend the time and money on maintaintenence, and trash them before they become dangerous. Or you can let a quality, trusted, and time-tested mat service stock the mats you need where and when you need them. 
NDC Has the Quality Mats Your Business Needs 
A consumer is incentivized to buy low. A reliable mat rental service like NDC is incentivized to please our customers. We want your return business, and will do what we need to get it. That means quality materials, stellar customer service, and delivering the products you want on time. 
We know the importance of our products. Quality mats are the safeguards against liability and injury in your business. They keep business moving unimpeded. They improve the productivity of your employees and the comfort of your clients. 
Let NDC take care of your business's floor mats, and enjoy looking forward without fear of what's beneath. Call us at 800-238-2387. Ask about a free quote!